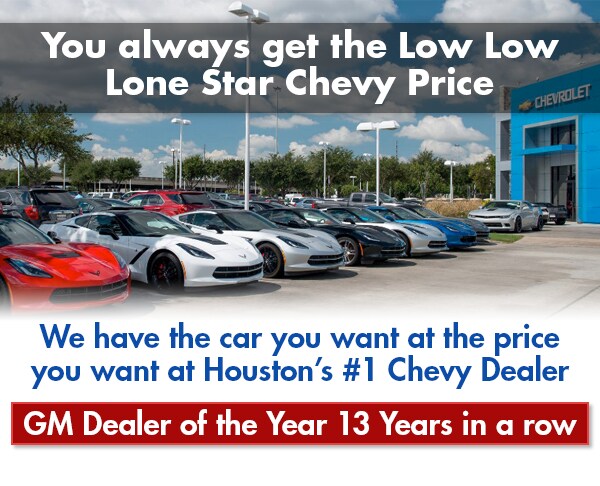 Let us help you understand why Lone Star Chevrolet is a
GM Dealer of the Year for 13 Years in a row!

 
CONGRATULATIONS
to Lone Star Chevrolet for winning the
BBB PINNACLE AWARD IN 2011 AND
BBB WINNER OF DISTINCTION AWARDS FOR EXCELLENCE
for 2012, 2013, 2014, 2015 and 2016.
Click any of our helpful tools to find out why we are a smart choice for you:

CarFinder
Lone Star Chevy Houston offers a free, no obligation and confidential CarFinder tool, allowing you to specify your desired car, truck or SUV and submit the vehicle configuration to us. Once we locate matching automobiles, you automatically receive details of those models, with photographs included. Let us handle the task of finding your next dream car!
We Speak Spanish!
Large State-of-the-Art Facility
We are proud to offer our customers the opportunity to view our state of the art facility.  With over 30 acres of inventory, customer friendly and spacious facilities, Lone Star Chevrolet was designed to offer the creature comforts and conveniences that our customers deserve.
The Lone Star Advantage
Get Lone Star Chevrolet exclusive benefits when you purchase a vehicle from us!
Award Winning Dealership
GM Dealer of the Year for 13 Years in a Row, GM Mark of Excellence Winner 12 Years in a Row, Better Business Bureau Pinnacle Award in 2011 and Better Business Bureau Winner of Distinction Awards for Excellence for 2012, 2013, 2014, 2015, 2016 and more!
Lone Star Military Discount
Lone Star Chevrolet is the #1 Chevy truck dealer in the Nation and is proud to offer the best Military Discount ever offered by any car company.
About OnStar
OnStar is the GM in-vehicle safety and security system created to help protect you and your family on the road.  It is the world's most comprehensive in-vehicle security, communications, and diagnostics system.
Compare Chevy's - AdvantaStar
Compare Chevy with any other brand and find out why you shouldn't buy anything else.
MPG
Find out why 30 MPG is pretty common with Chevrolet.
eBay Motors
Yes we're on eBay.  Come check us out!
Why Certified Pre-Owned
Every time you buy a Certified Pre-Owned Vehicle from us, you also get peace of mind.  We have 100% confidence in our CPO vehicles and you will too because they pass the rigorous scrutiny of the GM Certified program.  We are the #1 GM Pre-Owned Dealer in Houston!