CONGRATULATIONS to Lone Star Chevrolet for winning


BBB AWARDS FOR EXCELLENCE:




- BBB Pinnacle Award Winner 2011


- Winner of Distinction
for 2012, 2013, 2014, 2015 and 2016

At Lone Star Chevrolet, we don't have to talk about being trusted,
we prove you can trust us, everyday!

GM Dealer of the Year for 13 years

GM Mark of Excellence Dealer 2003- 2015
BBB Pinnacle Award Winner 2011

BBB Winner of Distinction Award 2012 - 2016

GM Coach's Cup #1 GM Accessories Houston Zone 2013-2016

GM Coach's Cup #1 Sales Volume Houston Zone 2015-2016

GM Coach's Cup CPO Volume Leader Houston Zone 2013-2016


Houston Business Journal #1 Dealer

Elite Service Dealer General Motors

Houston Chronicle #1 Dealership 2011

100 Club Lifetime Member

USO Gold Star Contributor
PTSD Foundation of America Platinum

Stars and Stripes Award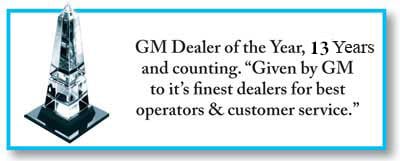 GM Elite Service Dealer Award Winner


Lone Star Chevrolet is the only dealer in Houston to win this award
and one of only five dealers to win the award in the state of Texas!  Read More
 

 
The GM Dealer of the Year Award is the highest honor that General Motors bestows each year.  The presentation of this award is a testimony to a
dealer who exemplifies the drive to achieve what GM seeks in all of its
dealers.  It recognizes not only sales performance and customer
satisfaction, but on-going operating standards and industry leadership.


Now 13 Years in a Row!






         This award recognizes Lone Star's commitment to excellence and

       

symbolizes the very pinnacle of success.  Representing the highest

         honors in the industry, it communicates to customers that

        

Lone Star Chevrolet truly is the best-of-the-best year after year.

 




GM Certified Means No Worries.


Lone Star Chevrolet has an extensive inventory of top quality GM
Certified Pre-owned vehicles and we sell more than any one else in
Houston - CPO Volume Leader 2013-2016   Search CPO...



         
          We support our troops and show it by donating $29,000 in phone
          cards to our troops.  Lone Star is American Proud!






Supporter of the PTSD Foundation of America 2009.  Supporter of the
Salvation Army 2007, 2008 and 2009.  Supporter of Cy-Fair FFA and
Tomball FFA.




        
 



At Lone Star Chevrolet WE LIVE WITH PURPOSE.

Our goal is to simply provide outstanding service to our customers.  Our mission and our values are displayed every day in how we operate and treat our customers.  Customer satisfaction is our top priority.  We are very proud to have won the GM Dealer of the Year Award for 13 years and counting.  This award is based primarily on excellence in operations and customer satisfaction.  Treating our customers as "Stars" has enriched our people, our business and our purpose.
We really do believe you "GET MORE AT THE STAR."