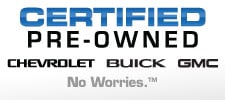 View Current Certified APR Offers
Introducing Owner Care: a pre-owned vehicle benefits package that raises our already-great coverage to new heights. Owner Care includes our new, exclusive 2-Year/30,000-Mile[1] Standard CPO Maintenance plan, which includes oil changes, tire rotations and a Multi-Point Vehicle Inspection (MPVI)[2]. We also give you the added security of a 12-Month/12,000-Mile[3] Bumper-to-Bumper Warranty and a 5-Year/100,000-Mile[4] Powertrain Limited Warranty. Plus you get 24/7 roadside assistance with courtesy transportation during the Powertrain Warranty period, along with our 3-Day/150-Mile Customer Satisfaction Guarantee. Owner Care is No Worries? on a whole new level.
---
Benefits of Certified Pre-Owned
Standard CPO Maintenance Plan

Two Auto Warranties

Roadside Assistance

172-Point Vehicle Inspection

3-Day / 150 Mile Guarantee

Vehicle History Report

OnStar Trial Offer

SIRIUS XM Radio Trial Offer

---
Certified Advantage
Our vehicles give you the Value of Used -- and the Confidence of New.

Purchase one of our Certified Pre-Owned Vehicles and you'll get something you never thought possible: new car confidence with a used car price tag.
The name "Certified" has always meant passing our strict standards, but now it also means Owner Care: a vehicle benefits package that raises our already great coverage to new heights. It's why our vehicles deliver more satisfaction and certainty than any ordinary used vehicle.
Certification Standards:
 The vehicle must:


Be a 2006 (or newer) model Chevy, Buick, GMC, Pontiac or Saturn
Have a maximum of 75,000 miles
Pass our 172-Point Vehicle Inspection and Reconditioning Process

 

Have a clean title
Come with a Vehicle History Report

Owner Care:

New 2-Year/30,000-Mile1 Standard CPO Maintenance Plan
12-Month/12,000-Mile3 Bumper-to-Bumper Warranty
5-Year/100,000-Mile4 Powertrain Limited Auto Warranty

24-Hour Roadside Assistance
Courtesy Transportation

3-Day/150-Mile Customer Satisfaction Guarantee
OnStar® Directions & Connections
SiriusXM Satellite Radio Trial Offer
---
2 Year / 30,000 Mile Standard CPO Maintenance Plan

You can feel confident in your decision to buy a Certified Pre-Owned vehicle long after your purchase. Starting from the delivery of your vehicle, we're providing you with 2 years or 30,000 miles of standard vehicle maintenance*?which includes:
Oil Changes: based on your vehicle's Oil Life Monitor system
Tire Rotations
Multi-Point Vehicle Inspection (MPVI)**
So you'll not only drive off the lot with certainty and satisfaction, but you'll be able to come back to your participating Certified Pre-Owned dealer for the best possible auto service on your vehicle. It's just one more way that Certified Pre-Owned Vehicles from Chevy, Buick or GMC deliver you the value of a used vehicle with the confidence of a new one.
Standard Vehicle Maintenance is transferable to subsequent owners if the vehicle is still within terms of 2 years or 30,000 miles. If you already own a Certified Pre-Owned Chevy, Buick, GMC, Pontiac or Saturn that has our new 2-Year/30,000-Mile Standard CPO Maintenance Plan, contact Lone Star Chevrolet Service Department for your service needs.

---
Search Certified Pre-Owned Inventory
Download Brochure
Disclaimers:

NEWS - June 11, 2011 - General Motors is re-launching its certified pre-owned program today with a new official name, a new branding strategy, a more thorough inspection explanation and what GM officials are calling an "industry first:" a two-year/30,000-mile free maintenance program called Owner Care.
Jennifer Costabile, general director of used-vehicle activities for GM, and Larry Pryg, the program's national manager, talked with Auto Remarketing recently to outline and discuss the new program.  The automaker collaborated with its 10-member dealer council in building the program, but its cooperative efforts with dealers went far beyond that.

GM phoned close to 100 dealers to get input, Costabile said, and put quite a bit of effort into working with dealers "because they're going to be the ones executing it, so we wanted to make sure they were comfortable with it."  In fact, the main point of the revamping was to add more value to the program for dealers and customers.  For instance, Costabile pointed to the new Owner Care program, which includes free oil changes, tire rotations and multi-point inspections for two years or 30,000 miles, saying: "We really feel this is a strong value-add to customers."
Additionally, GM vice president of U.S. sales operations Don Johnson stressed that enhancing the program's value can lead to increased new-vehicle sales, as well.  "One of the most important things we can do is manage the business to help increase the value of Chevrolet, Buick and GMC used vehicles," Johnson said. "This increased value gives potential new-vehicle customers more for their trade-ins, thereby lowering their ownership costs."
Sharing more on how the program will be different, Costabile said it will no longer be called GM Certifed Used Vehicles. Instead, the program will now be referred to as the Chevrolet/Buick/GMC Certified Pre-Owned Vehicles program.  Regarding the switch away from the term "used," it is believed that consumers are more comfortable with the term "pre-owned." Or perhaps this better spotlights the fact that certified vehicles tend to encompass newer model years.
Cadillac, of course, has its own certification process. As far as discontinued brands like Saturn, Pontiac and Hummer, they will be a part of the new program and "we want to continue to support these brands," said Costabile.
Explaining the branding change, Costabile said the automaker wanted to put the GM moniker "behind the curtain" and make it more brand-centric. The reasoning is people don't buy a "GM" car, they buy a Chevrolet or Buick or GMC, she stressed.
The program will also include "consistent and competitive" support for dealers when it comes to incentivizing CPO rides, Costabile shared.
The warranty benefits will remain the same, GM said, referring to the five-year/100,000-mile powetertain warranty and the 12-month/12,000-mile bumper-to-bumper warranty.
However, the inspection process is now a 172-point process, versus a 117-point process previously. GM explained that there are not 55 more items to be inspected, instead, the point-expansion is designed to help dealers become more thorough in how they describe the checks in the inspection to the consumer.
For instance, the wheels and tires were previously just one point on the inspection form. Pryg said the process of checking them now is with four points, so that the dealers can show how specific elements of the wheels and tires were inspected.
"The work for the dealer hasn't changed much, but we really wanted to build value in the program, and one way you do that is to show the customer what you did," Pryg explained.