Houston Auto Repair Service Houston Texas
Home of the $11.95 Oil Changes for Life
With purchase of any new Chevrolet or GM Certified Pre-owned Vehicle
*


 Josh Campbell, Service Director here at Lone Star,
 invites you to Lone Star Chevrolet for  SOS...

Simply Outstanding Service!

General Motors has designated
Lone Star Chevrolet as a
Saturn Approved Service Provider
for Houston, Texas!
  
Read Our Service Tip of the Month - 10 Ways to Save Gas!

  (please scroll down)

All cars and trucks need regular "check-ups" to ensure that all parts are in working order, fluids are at the correct levels, and worn out parts are properly replaced. Our expert auto mechanics are
Chevrolet certified car repair specialists
. You are welcome to visit anytime and check out our great new Chevrolet
auto repair service special offers
.
Your Chevrolet car works as one unit, and is intended to provide you safe, reliable transportation. This means that all parts are interrelated. Ignoring maintenance can lead to trouble. Many times you will notice either specific parts - or an entire system - can fail. Neglecting even simple routine maintenance, such as changing the oil or checking the coolant, can lead to poor fuel economy, unreliability, or costly breakdowns. It also may invalidate your warranty.
Lone Star Chevrolet provides an extensive range of
auto service repair maintenance services
, including oil changes, tune-ups, car brake repair, mufflers, shocks and struts, tires, alignment, climate control, preventive maintenance, air conditioning, performance exhaust, and batteries. Houston Chevrolet car repair experts are here to help you whether you need scheduled maintenance, auto repair work, or a manufacturer recall. Call us at
1-800-926-5408
or contact us to schedule an
auto repair service appointment today!
Schedule Online
Your vehicle represents a significant investment, and taking an active role in maintaining your vehicle will help you protect this investment. Proper maintenance will help extend the life of your Chevrolet and preserve its value. In addition to helping you avoid costly repairs down the road, regular maintenance will optimize your Chevrolet car's performance, safety and fuel efficiency.
For example, over time your car, truck, SUV or minivan will be exposed to natural environmental factors such as friction, pollution, and temperature extremes. Let us help you to learn about minimizing factors such as:
Friction: Certain auto parts naturally contact others, causing friction. We can assist you to
get more information about friction, potential problems, and a schedule for oil changes and lubrications.
Pollutants: Dirt, corrosion, and other materials can clog fuel and lubrication systems.
Damage: Environmental elements such as industrial fallout, air pollutants, and even sunshine can damage your.
Schedule Auto Repair Service Today!
Our Staff of Service Technicians are continually being trained
to ensure the proper maintenance and repair of your vehicle.
We know your vehicle inside and out

We use Genuine GM Parts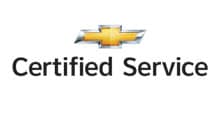 GM Trained Technicians.
  We know your vehicle inside and out.
Nobody knows your GM Vehicle Better!
Service Tip of the Month - 10 ways you can save gas!
1. Go the speed limit. Use cruise control.
Speed limits are calculated for maximum safety ? they'll also reward you with maximum gas mileage. You can get up to 20 percent more mileage traveling 55 mph than 70 mph. Using cruise control provides additional gas savings.
2. Drive evenly. Avoid hard stops.
Quick starts burn gas while hard stops also cost you. Take your foot off the accelerator and coast a bit before stopping for a traffic light or a stop sign.
3. Avoid idling and rush hour traffic.
You're burning fuel while idling ? up to a gallon every hour. So, avoid rush hour traffic when possible.
4. Open windows at slow speeds. Use A/C on highways.
Around town, turn your air conditioning off and roll down the windows. On the highway, open windows create drag at speeds of 40 mph or more, so roll them up and use the air.
5. Remove junk from the trunk.
Added weight in your vehicle affects fuel economy, so take unnecessary items out of your trunk.
6. Fill up when it's cool and before holidays.
Cooler temperatures in the early morning or late evening create less vapor. Also, getting a fill-up three days before a holiday will help you save on the per-gallon price at the pump.
7. Don't top off gas and tighten the cap.
When buying gas, stop when the pump shuts off automatically. And remember, your tank needs both fuel and fumes, so tighten the gas cap after every fill-up.
8. Use the correct fuel grade.
Use the fuel grade recommended by your vehicle manufacturer. In addition, TOP TIER Detergent Gasoline is even better for your vehicle. It is a class of gasoline with enhanced detergency, that exceed detergent requirements imposed by the EPA. It meets voluntary deposit control standards developed by four automotive companies, including General Motors.

9. Don't accelerate up hill.
Build up speed before an incline, and then maintain it on the way up. Coast on the way down for additional fuel economy.
10. Avoid rooftop carriers.
Approximately one quarter of each gallon of gas is needed to overcome wind resistance, so avoid carrying things on your roof. If necessary, use an aerodynamic carrier to help minimize drag.
Houston Chevy Auto Repair & Service - Lone Star Chevrolet
Maintaining your Chevrolet properly is the key to vehicle longevity and our Houston Chevrolet service department is standing by to keep your car, truck or SUV running smoothly for years to come. Our highly-trained technicians will maximize your Chevrolet vehicle's performance. All service includes a multi-point vehicle inspection to identify developing problems so you can avoid future breakdowns. Lone Star Chevrolet pre-rescues your car in the service bays so you don't get stranded on the highways!
Located at 18900 Northwest Freeway, Lone Star Chevrolet is your convenient car dealer for Chevrolet service and repair in Houston. If you'd like to schedule a car repair or service appointment at our Houston Chevrolet dealership, please use our online service appointment form or call us at 1-800-926-5408.